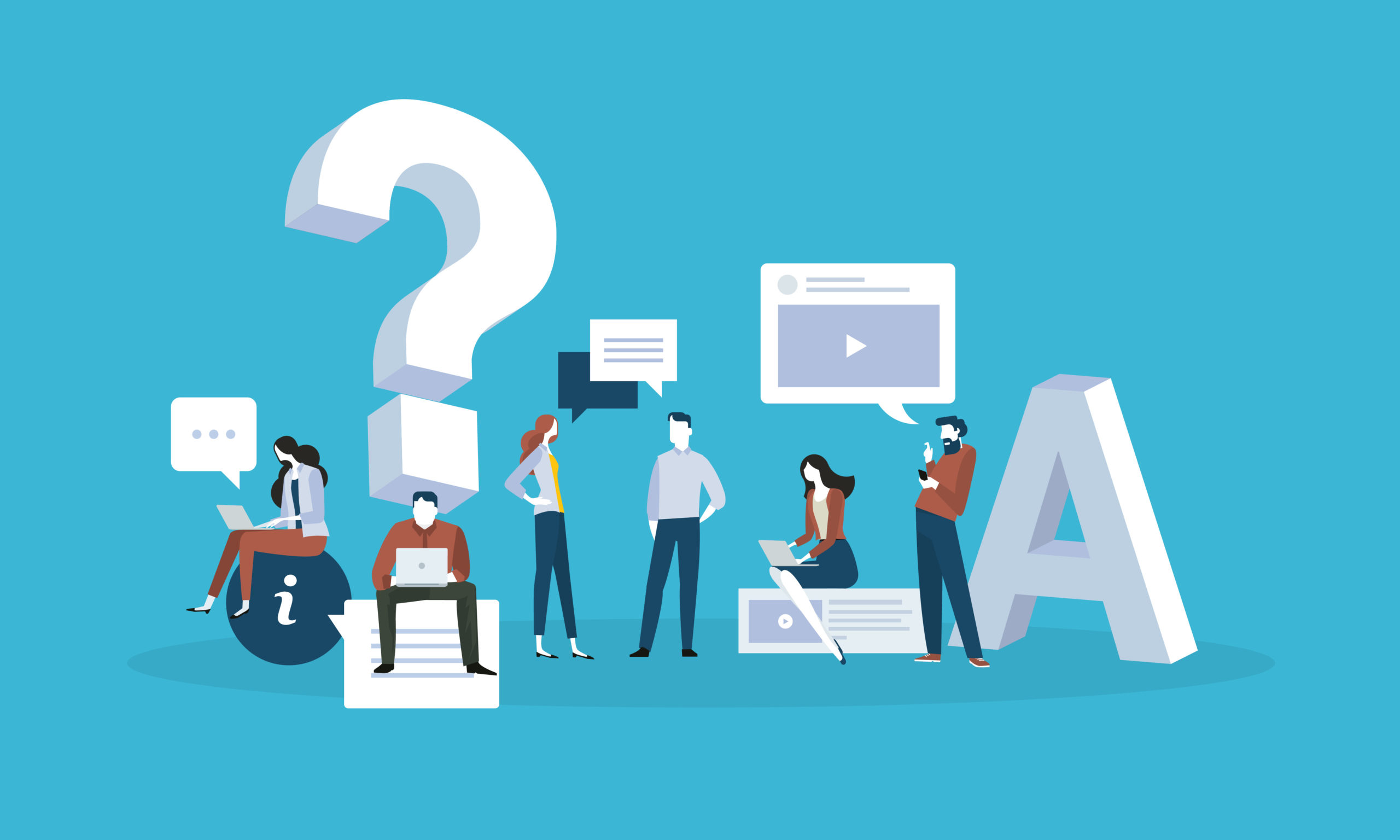 Stuff we get asked about social media marketing
One area of marketing we are always inundated with questions about is social media.
During and after every talk we do on this subject there are always questions about best practice or where/how to aim efforts.
Here are some of our most frequently asked questions along with our responses.
Q: As a business, what platform would you recommend that we spend most time on?
A: The simple answer is where are your audience? Which platform are they most likely to be on? Once you know this then focus on that one channel to build engagement.
You need to identify your target audience, once you have worked up a persona for them this will help you understand which social media platform will have the best reach for you.
All businesses should have a LinkedIn page, with a fully optimised profile; i.e. a statement about the business, a logo, a list of services or products and links to your website and contact details. Every employer who has a LinkedIn account will then be linked to this page when they add in their employment history.
When you have identified which platform/s to be on make sure the content you post is relevant to the uniqueness of that channel. Content that works well on Instagram probably won't have the same engagement on LinkedIn.
For LinkedIn content should be industry focused, sharing your blog content, recent contract wins, client testimonials and case studies are all good solid content. It is also a platform to ask for advice or pose questions that you as a business may need answers to.
Twitter is more limited in the number of characters that you can utilise but again you can share the same type of content as on LinkedIn but you may also want to post observations, recommendations, share content or respond to content. Post lots and regularly on Twitter to gain followers and engagement. It is important to build a solid followers list i.e. people you follow, to help grow your own followers on Twitter.
Facebook is more personal and has better engagement for businesses that are selling a product. However, it is better to have a profile on facebook than not at all as it is still the most popular social media channel. Try to post content with a bit more personality than simply industry content.
Instagram is a visual platform and you can't easily link content back to your own website. Use images that are on brand and possible to over lay text, users will be scrolling through their insta feed and if you can catch their attention with an image and copy they you are more likely to get engagement from them. Try to post images of employees at work, or if you are at exhibitions, show your audience what you do visually.
Pinterest, this platform has had more success in the US than here but it has seen an increase in engagement during the recent pandemic. It is a visual platform, you can post images or video, but you are able to add links to any of the posts that you create, unlike Insta. You can also share pins (posts) from other people's accounts. The platform also gives you the opportunity to group your content into boards which can be public or private.
YouTube, having a Google account will give you access to YouTube. This platform is purely for video, any corporate videos can be posted to your channel, with a description and the link can be shared or the video embedded on other social media platforms as well as websites. Content here should be on brand and communicate what your business does.
TikTok, this isn't a platform that will work for every brand. To be noticed here you need to be creative, using short videos clips individually or multiple ones edited together. See the question further down the page: Should I have  TikTok account?
Q: How do I choose a hashtag?
A: Hashtags need to be content specific, they should be relevant to the post or the content that you are sharing. Using hashtags helps users find your content so therefore you need to think about these carefully. On all platforms users can choose to follow a hashtag so your content can be picked up by users that aren't necessarily your followers so giving you further reach.
Never use an irrelevant hashtag as this will only alienate your readers and may stop users following you.
Think of a hashtag as a category, like when writing a blog, how would you classify the subject of your content?
You can create your own hashtag that reflects your brand and then this can be used on each post if relevant.
Think about SEO when looking at hashtags, which keywords are you using on your website can these be used in your post?
What hashtags do your competitors use? Or other similar businesses? Are there any influencers relevant to your brand, what hashtags do they use?
Q: How many hashtags should I use per post?
A: The number of hashtags to use will depend on the social media platform that you are posting to, this will also determine where in the post you should add them as well.
LinkedIn – use three to four and put them at the end of your post
Facebook – use two or three and add them to the end of your post
Twitter – use not more than four and these can be used within the content of your post in order to optimise the character limit set
Instagram – use at least seven, these can be added within the content but can all be listed together and added at the end of the content, adding a line break or two after the body content, then list your hashtags. Remember they need to be relevant.
Pinterest – the limit here is 20, keep them descriptive to your content and add them to end of your pin description
YouTube – use no more than 15, more will mean you may be flagged by YouTube of overstuffing. Add them to your description and make sure they are relevant to your video content
Vimeo – you can use up to 20 tags, these are added via the tags tab found under the Discovery section within the Distribution tab
TikTok – use 4 to 5 hashtags within the caption of your video, too many hashtags and the algorithms will not understand what your content is about
Q: How often should I post content?
Q: Should I have a TikTok account?
A: Are you likely to connect with your audience on TikTok? Are trying to build a Generation Z audience? If this is where you are likely to get the most reach to your target audience then yes, but make sure you keep your posts on brand. TikTok is about having fun so this may not fit well with your brand or you may have to think up creative ways to broadcast your brand, getting staff members onboard or customers???
If TikTok isn't for your business then remember that you can post a video to Instagram and now with Reels, you can have fun cutting various videos together to make them more creative.
Being on any social media platform will depend on where you are most likely to find your audience, grow your followers, and ultimately convert them into customers. TikTok is a platform still underused by brands so this could be a good opportunity for you to stand out from your competition. Just think about content and what is likely to work for you as a business, it may be that you champion colleagues to post to this platform, those that have a good personal brand and are heavily associated or integral with your company. Have fun with it, content posted to TikTok probably won't be the same as that posted to other platforms so you can show a lighter or funnier side to your organisation.
Q: Can I only post videos if I have a YouTube Channel?
A: No is the short answer!
Having a YouTube channel to share your videos is a must, YouTube is owned by Google so helps towards your SEO rankings. So make sure you post any brand videos to your channel and make sure you fill in all your metadata so that Google can pick up on this and always share them with your website.
However, there may be some videos that you don't want to be kept forever on your YouTube channel as they were time-sensitive, were done in a rush, were filmed on your phone, or are videos of your dog! These can make great posts for social media to show your own and your business's personality.  They can be shared across all platforms but keep them short. Unlike a corporate or brand video that can be anything from 1 to 3 minutes long, social media videos should be a few seconds long. Short and sweet to keep your audience engaged and get your message over quickly.
Q: How do I measure engagement with my posts?
A: Every platform has a way to analysis how your posts are performing. You can drill down to your followers' gender, what post has been most popular, when it is a good time to post based on your followers, how many shares etc etc etc.
It is really important that you look at your analytics regularly to see what you can learn from them. Which posts are performing better than others, can you work out why? What time of day do you get more engagement? Can you take any of the posts and develop them into blog posts or a thread of posts to build on the engagement.
Instagram calls them Insights and can be found on your profile page as a button.
Twitter on desktop go to your profile page and on the left, you have a list of actions, click on more to find your analytics.
Facebook on desktop go to your profile page and on the left, you will find a link to Insights.
LinkedIn analytics are on each post and these can be expanded to show more detail.
YouTube when logged into your channel, go to any of your videos and you will find a button for analytics under the video and above the description.
Pinterest when on your profile page on desktop, there is a menu top left, there is an analytics tab. Here you can get an overview of the performance of your posts but also insights into your audience.
Tik Tok when on your profile on mobile go to the burger menu top right, under Account you should see an analytics tab, here it will give you data on followers, views, and profile views, and just like the others you can dig a bit deeper into these stats.
Q: What are stories on Facebook and Instagram?
A: They are posts that only last for 24 hours on your profile. They are pinned to top of your profile page with your profile image. The idea being that you can share images and videos throughout the day but they disappear from your profile after 24 hours. The images and videos are shown in a slide show format and you are able to add stickers and text to each post. They are a great to tell the story of your day or project or service.
Although stories are designed to disappear, on Instagram you are able to add them to your highlights.  These are posts that appear on your profile page above your post feed and highlights can be themed so that you can group your stories together and you can select the best post from your stories to save to your highlights.  You also have the ability to add and remove slides from your highlights.
Try them, what do you have to lose?
Q: Should I be doing live broadcasts?
A: Lives are a great way to connect to your audience, you can quickly do one offs, as and when you want to, or to maximise your brand reach you could try to schedule a live so your audience know when to engage with you.
Think about what you are sharing; are you doing a talk, a Q&A session, interviews, talking about a relevant topic, setting a challenge, promoting a service or product etc? Perhaps think about a theme if doing a regular broadcast and consider what day and time would be best to go live. Can your analytics give you any insights as to when your followers are most active on your page?
With Lives you do have the option to record them and have them posted to your page so that users can get access to them if they couldn't attend the live stream. However, you may just want to keep them as lives and not repost them in order to encourage your audience to tune in for the live.
Give it a go and see how it works for you.
We hope this has been helpful. Do let us know if there are any other topics that you may need guidance on or that we can help with.
If you need any help with any of the above, we're only an email or call away.
Tel:  01223 813615
Email: lesley@designbynetwork.co.uk